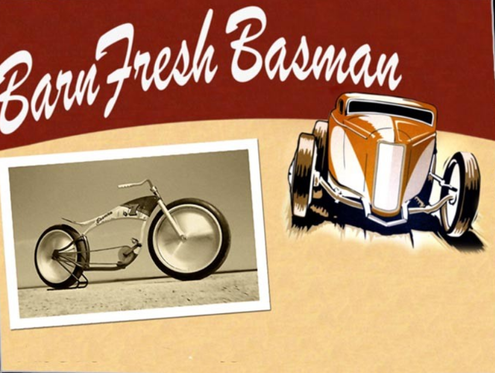 "A photo of  "Lucky 7" in its slat flat racing heyday of 1958 shortly before its disastrous coaster brake failure and subsequent disappearance from the Bonneville race scene. That is until now. In July 2006 whilst on summer vacation a Chopperdome staff member unearthed the salt flat racer in a barn just south of Iowa. Shipped back to Europe it was restored and the brakes upgraded in the Chopperdome workshop. Now it's finally ready to show to its admirers around the globe."
"The Dynoliner special, a '32 coupe from the same era which shares some extraordinary similarities with "Lucky 7". It's a small world."

Matt 7/32
Matt 7/32
Bij weinigen echt bekend maar achter de magische naam 7/32 gaat één van Europa's beste custom builders schuil. Matt heeft een paar van de meest spraakmakende chopperfietsen van de laatste jaren gebouwd. Momenteel (2007) werkt Matt in The Chopperdome en is begonnen aan een nieuw project waarvoor één van de orginele Lucky 7 Basman frames als basis gaat worden genomen. Met een oog voor detail, puttend uit vele avonden bladeren en nalezen tekende Matt in het nov 2006 zijn "Lucky 7" Salt Racer. Er is de laatste paar dagen rustig doorgewerkt door Matt aan de bike gebruikmakend van buizen uit het gechopte basman frame. De tussenbuis is nu één met de bovenbuis waar het zadel komt te zitten.

En met het frame zover dat er aan de afwerking van het frame kan worden aangevangen is er nu ff tijd om nog eens te kijken naar de bike zoals Matt deze in gedachte heeft. Tijd om eens te kijken hoe het idee uitpakt op het frame zoals het nu is. De bike staat veelal in de Chopperdome Garage, lastig dus om echt "top secret" te houden.
"Tuurlijk was het bezoek aan Mooneyes in jan 2007 een deel van het project wat Matt hoopt af te hebben voor de FBI 2007. De Moon disc zijn edoch alleen verkrijgbaar in 26", laten we nu 24" discs nodig hebben ......Wordt het nu 24x4 1/4" of 24x3"? De keuze voor Hope voor de naaf en schijfrem is obvious.
Even later staat het pakket van Hope op de stoep en wordt de test opbouw weer uit elkaar gehaald voor opbouw met PRO 2 single speed naaf in Gunsmoke voorzien van Moto V2 203 mm discbrake. Er komen tank delen binnen, met dank aan K.A.R.S.

De Lucky 7 is ondertussen klaar en heeft zijn eerste show achter zich, nadat de bike nog niet geheel klaar al te zien was op de COTY 2007.

Design: Matt 7/32
"Relic" paintjob: Sam's custom shop
Build at: The Chopperdome Garage